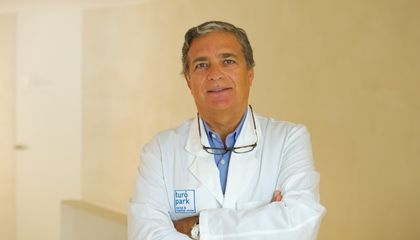 Dr. Antonio Oliva
General Surgeon
English - Spanish - Catalan
Hemorrhoids, anal fissures, fistulas, and sacral or pilonidal cysts
Inguinal and umbilical hernias
Laparoscopic Gallbladder Surgery
Abdominal herniations (eventrations)
Book an Appointment now
Discover more about me
At Turó Park Clinics, Dr. Antonio Oliva works in our medical team in general and digestive surgery. He is a surgeon with more than 30 years of work experience.
He currently works as an Emergency Surgery Coordinator at a private clinic in Barcelona. He has also formed part of activities in various private medical practices: Centro médico Teknon, Clínica Olivé Gumà, Centro médico Clínicum, Hospital de Barcelona and Clinica del Remei.
As a general surgeon he excels in performing the following surgeries to treat different conditions:
Skin Lesion Surgery: surgical procedures for various skin lesions, including cysts, lipomas, nevi (moles), fibromas, and ingrown toenails, among others. These surgeries aim to address these lesions effectively.
Proctology: addressing conditions such as hemorrhoids, anal fissures, fistulas, and sacral or pilonidal cysts. His expertise ensures comprehensive management and relief for patients experiencing these concerns.
Abdominal Wall Surgery: encompassing the treatment of inguinal and umbilical hernias, as well as abdominal herniations (eventrations). He offers both open and laparoscopic surgical approaches for these conditions.
Laparoscopic Gallbladder Surgery: commonly performed to address gallstones or cholelithiasis. This minimally invasive approach offers patients effective treatment for gallbladder-related issues.
Intestinal Surgery: surgical procedures for various intestinal conditions, ensuring optimal care and treatment outcomes for patients requiring surgery for intestinal concerns.
Thyroid Surgery: providing comprehensive care for patients with thyroid-related conditions. Surgical interventions are tailored to meet the specific needs of each patient.
Education
In addition to a broad range of professional expertise, Dr. Antonio Oliva has a strong academic background. At the Universitat Autónoma de Barcelona, Spain, he undertook undergraduate courses, and then went on to specialize in general and digestive surgery at the Hospital Universitari del Mar, before finally achieving his doctorate degree a couple years later.
Notably, during his degree he rose to the position of Chief Resident in General Surgery, which calls for a track record of excellence in patient and professional evaluations.
Discover the opinions about our general surgeon, and leave your own.
Universities and medical societies
Dr. Oliva is a member of the Sociedad Catalana de Cirugía
Book an appointment with Dr Antonio Oliva