Your VO2 Max stress test in Barcelona
You are an athlete and you would like to do a VO2 max effort test in Barcelona to adapt your training? Are you going to undergo heart surgery or suffer from heart failure? You get out of breath quickly with effort and are looking for an explanation?
Whatever your reason for wanting to perform this cardio-respiratory maximal effort test, you can count on our medical team to accompany you throughout the test and explain the results to you. Depending on the indication of the test, you will also be able to continue your follow-up with our experienced sports cardiologist or prepare your return to physical activity with our doctors specialized in sports medicine.
What is a cardio-respiratory maximal effort test : VO2max ? 
The cardio-respiratory maximal effort test, or VO2 max, is a test that evaluates a person's ability to exercise. While the patient pedals on the ergocycle, his cardiological, respiratory and muscular responses are studied thanks to a series of sensors.
Thanks to this examination, you will be able to know :
Your VO2 Max
Your MCH or Maximum Heart Rate
Your SV1-QR1-SV2 thresholds, limits of your different metabolic phases
Heating, Recovery, Regeneration
Efficient Fundamental Endurance or EFE
Resistance with oxygen debt
Speed
Your PMA: Maximum Aerobic Power
Depending on the indication of the stress test, this test may be supplemented by a measurement of the oxygen and carbon dioxide content in the blood before and after the effort.
What is the difference between a VO2 max test and a classic stress test?
A classic stress test does not take into account the respiratory component, i.e. VO2. It is therefore mainly indicated to detect coronary risk factors and to monitor cardiovascular adaptation to exercise.
Why do a VO2 max exercise test in Barcelona?
 The VO2 max test is intended for both athletes and non-athletes and can be useful in the following cases:
Pre-operative check-up before thoracic surgery
Search for a diagnosis of shortness of breath on exertion
Before starting respiratory rehabilitation
Before a heart transplant and for the follow-up of heart failure patients
Adapting training for athletes
If you need to take this exam in Barcelona, please contact us now. Our team of sports cardiologists will be happy to accompany you throughout your test and explain the results.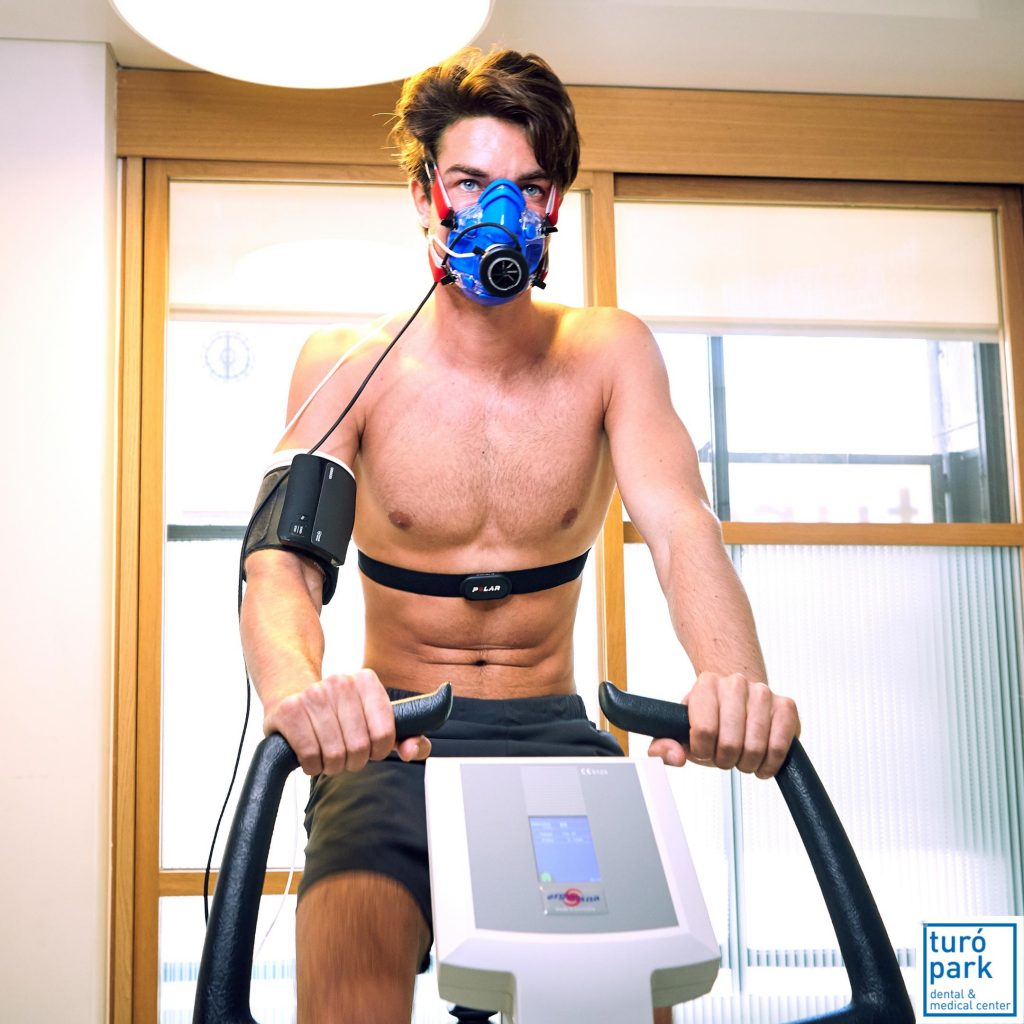 Process of a VO2 max evaluation test at the Turó Park Dental & Medical Center
 The cardio-respiratory maximal effort test begins with the positioning of the various sensors necessary to take the measurements:
Electrodes on the thorax
A tension cuff
A finger pulse oximeter
A mask to measure the quantity of oxygen consumed
Then the cardiologist will put you on the ergocycle to start the exercise. You will start with a warm-up and then the pedaling resistance will gradually increase until you reach your maximum capacity. The exercise lasts about 10 to 15 minutes and is followed by a recovery phase.
Once the test is over, the cardiologist will explain the results and give you indications according to your situation.
Do not hesitate to contact us by email (contact@turoparkmedical.com) or by phone (+34 932 529 729), if you need more information about this exercise test. We will be happy to inform you (in English!).