Our expert English-speaking nutritionists help you to use what you eat to help prevent disease, feel better, and achieve health goals, including weight management. We provide you with practical information and nutritional counseling tailored just for you. These services can include specialized plans for those following special diets or with specific dietary concerns such as vegan and vegetarian diets or those with food allergies and restrictions.
Our English-speaking nutrition service in Barcelona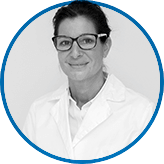 Dr. Noemí González
English Speaking Nutritionist in Barcelona
Catalan - Spanish - English - French - German
See profile
You need a doctor?
Meet our doctors or contact us to get a quick appointment!