Need to consult a doctor, but no time for office visit?
Access Turo Park Dental & Medical Center's
online doctor service.
It's safe, quick and easy!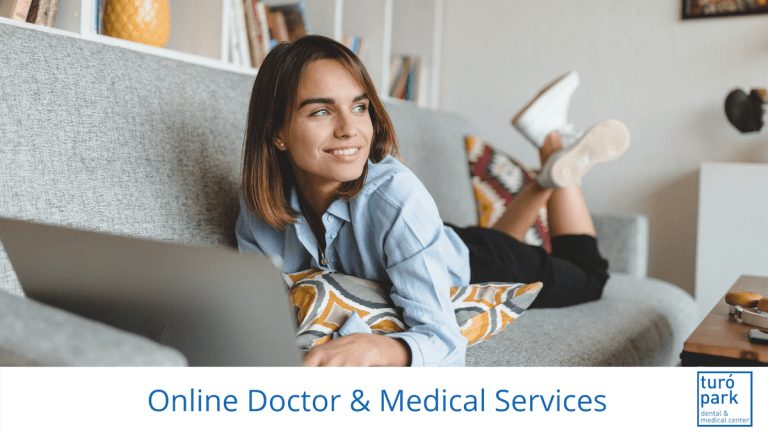 What is online doctor consultation?
An online doctor consultation is a medical consultation carried out remotely by a general practitioner, a specialist, or a dentist. There are many benefits of booking online doctor consultation services. Some of these benefits are listed below:
You can get a medical diagnosis + prescription in a few minutes.
You can choose to book a consultation by video, phone or chat.
You can consult an English-speaking doctor or dentist 7 days a week even outside our clinic opening hours.
You can consult a specialist from Turó Park Dental and Medical Center even if you're not in Barcelona
You can easily receive a valid electronic prescription for pharmacies. (see operational pharmacies here)
If you need online medical help from healthcare professionals from Turó Park dental and medical center, you can now make an online medical consultation. 
How do online doctor visits work?
Find out how to book an appointment with an online doctor in Barcelona thanks to our online medical consultation service!
1. Register your patient account
The first time you access the online doctor service, you will be asked to enter some personal data. This will only take you 3 minutes and you'll only need to do this the first time. This information is needed for the invoice we'll provide you with and that you'll need to send your insurance company for reimbursements.
Your information will be safely treated to guarantee medical confidentiality.
2. Consult your doctor in the easiest way for you: video, phone or chat.
You can choose to make an online consultation appointment for the same day or later and opt for an online chat, phone or video consultation. 
You'll be able to choose by medical specialty or by doctor's name if you prefer. Once the doctor has been selected, you will have access to the available time slots.
Your online consultation will be carried out by the doctor you have chosen. 
You can also cancel your appointment using the same tool.
3. Receive an electronic medical prescription.
You can receive your diagnosis report, medical prescription, work stoppage certificate or other medical certificates all from one place: Turo Park Dental & Medical Center. For further medical tests, you can always come by our clinic in Barcelona and see our doctors on a regular appointment.
Turo Park Dental & Medical Center, Barcelona. 13,000 consultations proficiently carried out and a team of 25 dentists and medical specialists over a network of medical experts.C
Meet our online doctors
Depending on your needs, you will be able to book an online appointment with one of our online doctors and dentists specialized in :
Psychological Assistance (eg: anxiety attacks)
General Medicine
Cardiology
Otolaryngology – ENT
Ginecology
Infectious Diseases
Pediatrics
Dentistry and
Orthodontics
Be aware that all our doctors and dentists available for online consultations also practice face-to-face at the Turó Park medical center.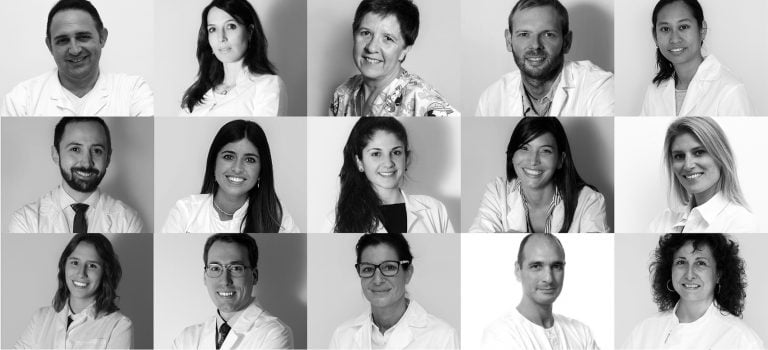 What are the most common conditions in primary care?
The general practitioners and specialists at the Turó Park medical center are able to take care of a large number of
pathologies and problems. Here are some reasons why you can book an online medical consultation with us:
Follow-ups: Prescription renewalls or lab reports.
Diverse Conditions such as: headaches, allergy symptoms, aid on smoking cessation, sleep deprivation, sexual problems, order renewals, psychological assistance.
Inflammations: Urinary tract infections, sore throats, occular infections, flu, cough or common colds, sinus or stuffy nose.
Skin diseases: acne, rashes, itches, insect bites, ingrown toenails.
Gastric, digestive problems: abdominal pain, diarrhea and vomiting, acute gastroenteritis, constipation, stomach pain or reflux.
Dental problems: broken tooth, toothache, tooth decay…
Online doctor pricing and reimbursement

When you book your appointment online for an online doctor consultation, you will need to pay in advance to confirm your appointment request.
The price depends on the specialty and the type of appointment requested and will be displayed on the screen.
How to pay for an online doctor consultation?
You can easily pay for your online consultation by credit card, thanks to our secure payment platform.
Reimbursement for Telemedicine
Currently, there is no set standard for private health insurance providers regarding telemedicine. We recommend that you check with your individual insurance provider to determine your coverage amount before coming to your online appointment with us.
In need of medical advice on other conditions ?
Get in touch with us at: contact@turoparkmedical.com we will refer you to the right specialist.