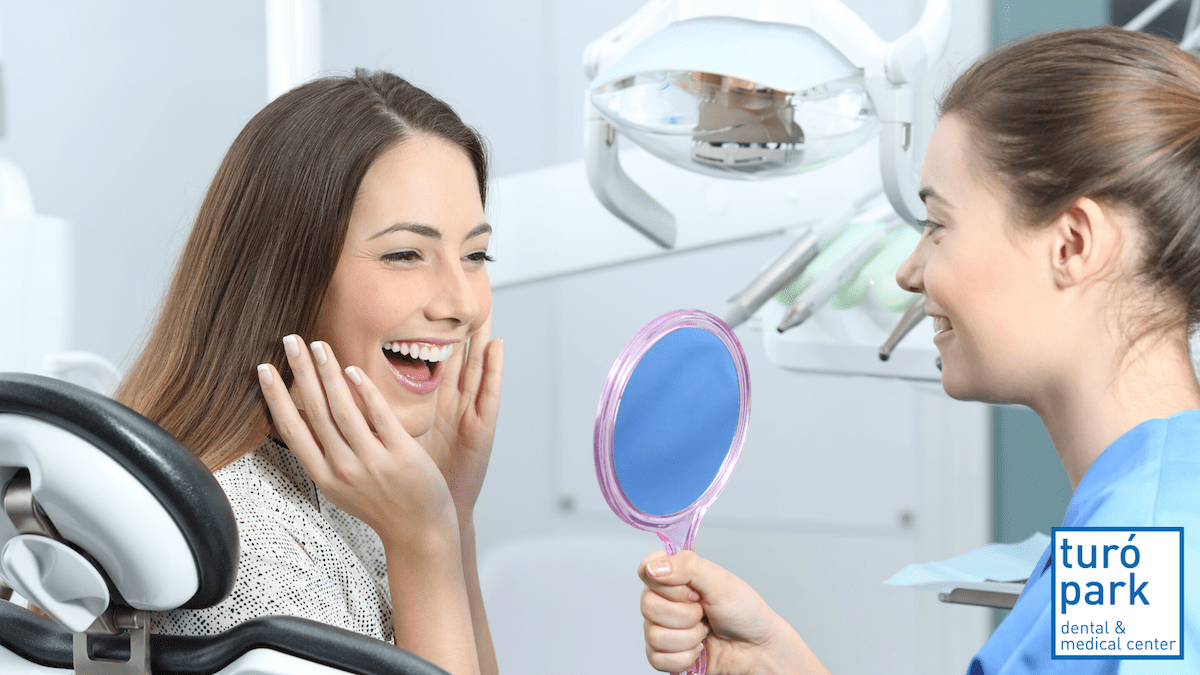 A Whole New World of Dental Implant Technology
A New World of Dental Implants available at Turó Park Medical and Dental Center
Not long ago, the only option for people missing teeth were either gaps in their mouth, dentures, or dental bridges.  Not very enticing, right?
Fortunately, Barcelona's premiere multilingual dental clinic, Turó Park Medical and Dental Center, offers you better choices.
What is a dental implant?
For those who might not know, a dental implant is an artificial tooth and tooth root used to replace one or more missing teeth.  Dentists use a screw to secure the artificial tooth (also known as a fixed dental prosthesis) to either the upper or lower jaw bone.
Why do you need a dental implant?
Most people choose dental implants because they want to improve their physical appearance.  Having missing teeth also increases your risk of tooth decay or movement of adjacent teeth.
With missing teeth, it can be more difficult to effectively chew your food.  Implants can help you eat a better diet, have healthier digestion and better oral health.
Why are dental implants better than dentures?
The vast majority (90%) of people who choose dental implants are happy with their treatment choice.  Reasons for this high treatment success rate include:
Implants look more like natural teeth than dentures or dental bridges.
Better oral health. With dental bridges, adjacent teeth need to be carved out to serve as "anchors" for dental bridges. This is not the case with dental implants. Also, it is easier to reach adjacent teeth with dental floss and during dental cleanings with dental implants as well.
Patients with dental implants experience less oral discomfort than those patients with removable dentures.
When placed correctly, dental implants are permanent and never need to be replaced.
Why choose Turó Park Medical and Dental Center for your implants?
Patients love our center's convenient, affordable, and accessible care provided with minimal disruption to your daily life and smile.
We offer:
Professionalism and expertise with the latest dental technology.
Turo Park dentists and oral surgeons are experts in their field who use Cone Beam Dental Scanning, a specialized type of Xray, to produce 3-dimensional images of your teeth, bones, nerves and soft tissues in your mouth.  This advanced technology increases precision, safety, and the likelihood of treatment success.  Our professionals primarily work only with zirconium dental crowns.  This type of crown is the most desirable material because it is most easily shaped, sized, and colored to match natural teeth.
Fast, convenient, and accessible care.
Dental implants are performed during regular business hours in our centrally-located Barcelona clinic, which allows patients who do not live in Barcelona to make the round trip on the same day.  Appointments can be booked online, consultations are readily available, and the Turó Park Dental & Medical Center team is always available to answer any questions you may have during the entire process.
Conscious sedation option.
Turo Park Medical and Dental Center can offer you dental implant procedures with improved pain control and reduced anxiety.  Under conscious sedation, you will remain conscious during the procedure, but because you are more relaxed, the surgeon is able to work more quickly and effectively, usually shortening the total time of the procedure.
Cost-effective treatment with reimbursement assistance.
Turó Park Dental & Medical Center offers affordable, high-quality dental implant care. Our multilingual health office staff are at your disposal to help you understand what the actual cost of your dental implant surgery will be and what your health insurance plan might reimburse.
Not Your Grandparent's Dentures Anymore !
Our dental specialists and oral surgeons look forward to talking with you about how the latest in dental implant technology can help your smile.
You can contact us by email or by phone (+34 932 529 729) to learn more about dental implant surgery costs, insurance reimbursement, or questions about the actual procedure.  We are at your service.
Written by Amy Harris