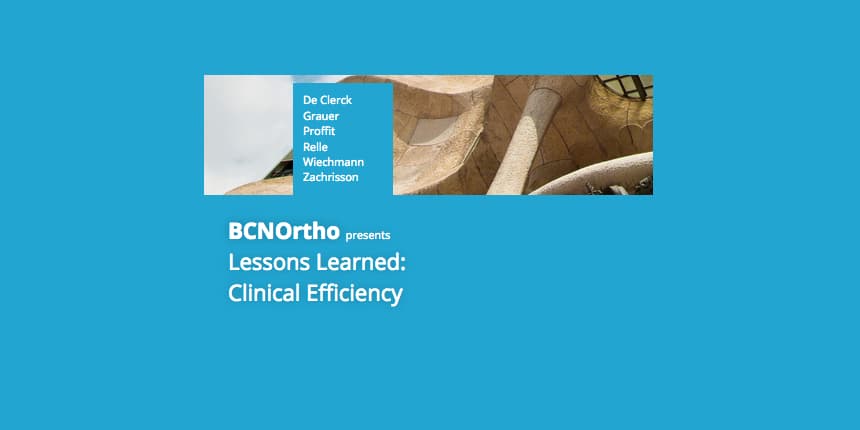 BCNOrtho – 10th Anniversary
The 10th anniversary of the BCNOrtho meeting happens this week in Barcelona. Digital orthodontics is already here, and many advances in three-dimensional imaging, design, and printing make this technology very useful in every dentist's office. This edition of BCNOrtho will be full of clinical techniques and advice based on the many years of experience of their lecturers. Through the lessons learned over the last ten years they will paint a picture of the next ten years of orthodontic "state of the art" advances.
The event will take place at the AXA Auditorium, 22-23 September, 2017
Dr. Hugo De Clerck
Dr. Hugo De Clerck was formerly Professor and Chairperson at the Department of Orthodontics at the Universite Catholique de Louvain from 1989 to 2006. Currently he is an Adjunct Professor at the University of North Carolina at Chapel Hill and maintains a private practice in Brussels, Belgium. His research interests are in skeletal anchorage, biomechanics and orthopedics.
Dr. Dan Grauer
Dan Grauer DDS PhD maintains a private practice in Santa Monica, California. He specializes in computer-guided orthodontics where invisibles customized appliances are fabricated based on the face, occlusion and smile. He is a Professor of Advanced Orthodontics at the University of Southern California and an Associate Editor for the American Journal of Orthodontics
Dr. Robert Relle
Dr. Robert Relle was a full-time staff surgeon at Kaiser Hospital, Los Angeles Medical Center before entering into private practice in Century City, where his practice is limited to orthognathic surgery He is currently a Lecturer at UCLA School of Dentistry and he co-chairs the Dentofacial Conference in the graduate orthodontic program at USC. He has published and lectured nationally on various topics in the field of orthognathic surgery.
Dr. Dirk Wiechmann
Bjorn U. Zachrisson is a Professor Emeritus in the department of Orthodontics at the University of Oslo. He has a private orthodontic practice in Oslo, and has published more than 275 clinical and scientific articles in international journals and textbooks in orthodontics, periodontics, traumatology and general dentistry.
Dr. William Proffit
Dr. William Proffit is the Kenan Professor of Orthodontics at the University of North Carolina. His textbooks Contempory Orthodontics and Contemporary Treatment of Dentofacial Deformity qualify him as one of the most widely read orthodontic authors.
This year, our Orthodontist Dr. Madeleine Smit will be attending the BCNOrtho meeting.