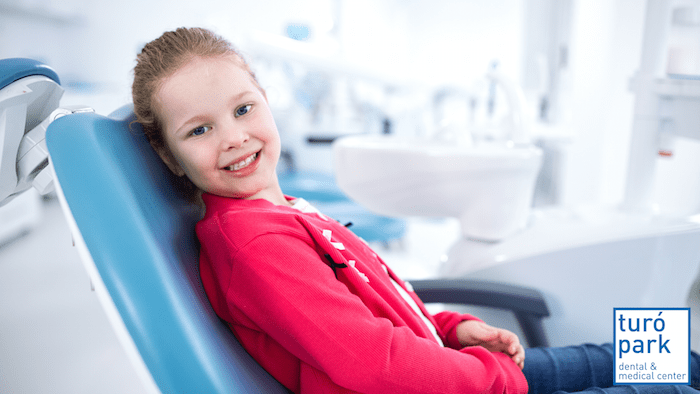 Introducing Invisalign First for children
Turó Park Dental and Medical Center now offers the latest revolution in orthodontics
for children as young as 7 years old: Invisalign First.
Would you like to know how to decrease the amount of time your child needs to wear braces?
The latest orthodontic treatment recommendations call for two phase-orthodontics for many children as a way to shorten the total time with braces.  During the 1st phase, between the ages of 6-12, orthodontists work to fix problems in the jaw (skeletal problems).  Trying to fix jaw problems at older ages is much more expensive, requires longer treatment, and may be less successful.  This is why Turó Park Dental and Medical Center Invisalign First is so excited to offer Invisalign First as a new option for their pediatric patients.
Why does Turo Park Dental and Medical Center love Invisalign First for Children?
Invisalign First improves children's smile as they grow
The technology is specifically designed to effectively work with children's smaller, growing teeth and jaws
Invisalign First effectively treats the most common dental alignment problems: crowded teeth, overbite, underbite, cross bite, and gap teeth.
Using Invisalign's unique "Smart Track" materials, teeth movement is more-easily predicted and controlled
Because the aligners can be removed, it is easier for children floss and brush their teeth, reducing the risk for cavities, staining, and other dental hygiene problems
Why do Parents choose Invisalign First for their children's orthodontic treatment?
Invisalign First reduces the length of time children have (and parents have to pay for) orthodontics. When worn consistently, Invisalign typically straightens teeth within 6-18 months, compared to the average 2 years traditional braces can take
No emergency visits for broken brackets or wires
Invisalign First Aligners come with a special blue indicator technology that makes it easy to make sure that children are wearing the aligners for enough time (typically at least 22 hours a day)- no more nagging!
What do kids like about Invisalign First?
The clear plastic Invisalign First aligners are nearly invisible
Aligners can be removed for eating to avoid embarrassing "food-in-the-braces" moments
No food restrictions- kids can eat all of the sticky candy, popcorn, and gum they want!
Invisalign First's custom fit is less painful and there are no mouth cuts or sores from poking wires or metal braces
Aligners can be removed for rehearsals and concerts. Traditional braces sometimes get in the way of successful solos on wind instruments like the flute.
Athletes can take out aligners for their games or practices for better safety (if they wear a mouthguard) and athletic performance.
Parents ask how they know whether or not their child will need orthodontics again at a later age if they have had Invisalign First.  Unfortunately, there is no guarantee that a child's permanent teeth will grow in properly, even after completing a first stage of orthodontics at a younger age.  Earlier orthodontics WILL make any future orthodontics for adult teeth simpler, faster and less expensive.
We invite you and your children to come to Turó Park Dental and Medical Center in Barcelona's Zona Alta district for an orthodontic consultation when they are around age seven.  At this visit, our expert child orthodontist will examine, assess, and make a personal treatment plan for your child.  Do not hesitate to contact us by email or by phone , if you need more information.
Our English-speaking medical staff and orthodontist look forward to answering any questions you might have.