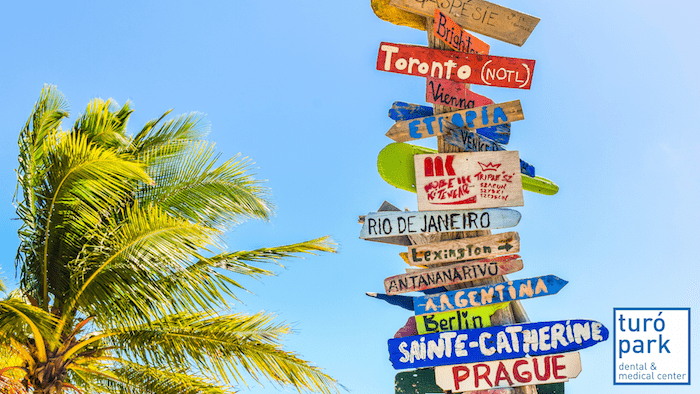 Travel Vaccination Clinic
Get ready for your next trip at Turo Park Medical and Dental's Travel Vaccination Clinic!
We at Turó Park Dental and Medical Center, Barcelona's premiere English-speaking medical center, want to keep you healthy, even when you travel around the world. That is why we have Dr. Juan Ambrosini, a world-wide infectious disease and travel medicine expert, available to take care of you and your family.
Travel health advice is extremely important when visiting specific countries. Our travel health clinic in Barcelona is your one-stop shop for all your travel health requirements and holiday vaccinations. Our specialists have in-depth knowledge of infectious diseases and can provide customized advice and disease prevention for all those traveling to far-off countries.
Below is a list of vaccine-preventable travel-related diseases that are not covered by routine adult vaccinations:
Hepatitis A.
Hepatitis B.
Typhoid and paratyphoid fever.
Meningococcal disease.
Rabies.
Japanese Encephalitis.
Click HERE to check vaccination requirements for all the countries.
Unfortunately we do not offer the vaccinations for yellow fever, Japanese encephalitis or rabies, but can help you to arrange these vaccinations at a local hospital.
Dr. Juan Ambrosini at Turó Park Medical Center will provide you with:
The most up-to-date region and country-specific information about local disease risk, dangerous animal exposures, or necessary documentation, such as the International Certificate of Vaccination, which some countries require travelers to carry.
A suitable medical kit to take with you and provide you with an appropriate "packing list" (see above).
Personalized advice if you are travelling with young children, pregnant or if you have pre-existing conditions such as diabetes.
Physician-signed attestations certifying your need to travel with certain categories of prescription medicine or special medical items for your medical condition, required by some international countries. Examples include: psychotropic medications or narcotic pain medications.
A post-travel medical evaluation, particularly if you are experiencing persistent diarrhea, skin problems, or if you have a fever within a month of traveling to a country with malaria.
Keep reading to learn some Dr. Ambrosini's basic tips for healthy and safe international travel.
Most Importantly, don't wait until the last minute!
You should receive all of your vaccinations 4-6 weeks before you travel.  You will also need time to assemble your medical kit, necessary travel documents, health insurance, and any prescription medications.
Health Insurance
You may want to consider purchasing additional or specialized medical and travel insurances, especially if planning "adventure tourism," travel to dangerous areas, or undertaking dangerous activities while abroad.  A short-term supplemental policy that will make payments to hospitals directly is best. Evacuation insurance is another option which might be valuable if you are traveling to remote areas.  Make sure that any policy provides access to a 24-hour physician support center.
Pack the right equipment and medications (depending on your travel destination).
Bednets, insect-repelling clothing and insect repellent with at least 20% DEET. For some insect-related diseases and infections (Dengue, Zika, Chikungunya) no vaccinations are available, so it is critical to prevent bites in the first place.
Sunscreen, hat, and sunglasses.
Spare eyeglasses and/or spare contact lenses (and solution), lubricating eye drops.
A certified water filter and disinfecting agent if traveling to areas with unsafe drinking water.
Antidiarrheal medication and oral rehydration salts.
Adequate supplies of condoms and oral contraceptives.
Antibiotics targeting the most frequent infections in travelers. Remember that medicines in other countries might be counterfeit.
Antimalarial medication.
Don't forget health-related travel documents
Carry a card that identifies, in the local language, your blood type, any chronic illnesses you have, any medicines you are taking, and any allergies you have.
Wear a medical alert bracelet if you have any allergies or medical conditions.
A list of all medications you and your family take with generic names and dosages.
Proof of Health Insurance.
Contact information and locations of available medical facilities.
Written  by Dr. Ambrosini
Call or email Turó Park Dental and Medical Center at +34 932 529 729 or contact@turoparkmedical.com or book your appointment online at www.turoparkmedical.com if you want to ensure that your next international trip is free of any health-related complications!
Article written in collaboration with the Dr. Juan Carlos Ambrosioni