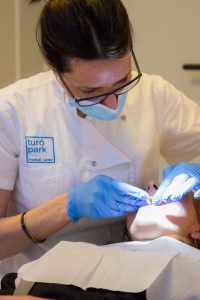 English-speaking dentists, orthodontists and oral surgeons in Barcelona.
Created in 2017 by Doctor Madeleine Smit, the Turó Park Dental & Medical Center welcomes you to our comfortable and high-tech dental clinic, conveniently located in the heart of Barcelona.
At our specialty dental clinic you will be welcomed by a multidisciplinary team of expert dentists.  This diversity of specialties and collaboration among our doctors allows us to offer you comprehensive and personalized care.  We guarantee that you will obtain an accurate diagnosis as quickly as possible.
We welcome adults and children, treat dental emergencies, and offer conscious sedation for your comfort during dental procedures.
We treat emergencies, Our doctors and hygenists perform routine dental cleanings, routine or long term treatments, more important operations and also aesthetics.
We strive to provide you the highest-quality dental care for the best price.
Our dentists are:
General dentists for routine and emergency care, dental hygiene, follow-up visits, and placement of fillings and implants.
Orthodontists for discreet, lingual and/or invisible treatments, with transparent aligners like Invisalign®
An Oral maxillofacial surgeon to treat injuries or conditions of the mouth, jaw, skull, and face.
Dentists trained in endodontics, the placement of dental implants and preforming root canal treatments.
Cosmetic dentistry specialists who are experts in placing dental veneers and crowns, teeth-whitening treatments and other procedures to give you a perfect smile.
Cosmetic dentistry, because there are as many smiles as there are people!
Our goal is to improve your dental health and enhance your smile, providing you with high-quality care.
Our specialist dentists  and qualified dental assistants, only perform treatments following the latest scientific advances in clinical dentistry.
Our modern dental clinic has 2 treatment rooms, a sterilization room and a radiology room, all outfitted with the latest technology.
Our team is made up of:
General practitioner dental graduates from leading universities
Pediatric dentists, dentists for children.
Maxillofacial surgery specialists
Specialists in implantology, periodontology, endodontics, and root canal procedures.
Specialists in cosmetic dentistry including: veneers, dental crowns, and teeth-whitening.
Our English-speaking Dental Team offers:
Endodontics (Root canal treatments)
Children's dental care
Filling / sealing of dental cavities
Emergency dental care
Dental X-rays
Gum care
Dental extraction
ATM gutters / night
Evaluation and treatment solutions for snoring
Our english speaking dentists in Barcelona
You need a dentist ?
Contact us to get a quick appointment!