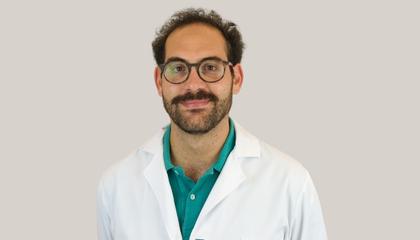 Dr. Octavio Garaycochea
ENT Specialist
English - French - Spanish - Portuguese - German
Book an Appointment
Discover more about me
Dr. Garaycochea is an English-speaking ENT specialist. He specializes in vertigo, rhinology and obstructive sleep apnea, among others.
As an otolaryngologist he offers treatments for adults and children.
Dr. Garaycochea speaks English, Spanish, French, Portuguese and German.
Education
Dr. Octavio Garaycochea received his medical degree from the University of San Martin de Porres and later completed his residency in Otorhinolaryngology and Head and Neck Surgery at the University of Navarra Clinic. He also has a PhD in Applied Medicine and Biomedicine from the University of Navarra.
In these fields he has authored or co-authored several scientific articles in national and international medical journals, as well as in medical books and has participated as a speaker in numerous congresses, meetings and training sessions. He is also very involved in research, contributing to clinical trials on rhinosinusitis with nasal polyps.
Medical associations
Dr. Garaycochea is an active member of the most relevant societies in his field: Sociedad Española de Otorrinolaringología y Cirugía de Cabeza y Cuello (SEORL) as well as the Asociación Navarra de Otorrinolaringología (ANAORL).
Discover the opinions about this doctor and leave your own.