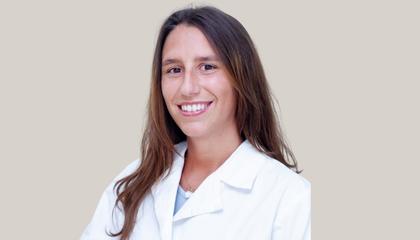 Discover more about me
Andrea Cao is an English-speaking podiatrist. She takes care of your feet' health at Turó Park Clinics.
She specializes in the treatment of nail disorders (onychomycosis, onychogriphosis, onychocryptosis), skin disorders (dermatomycosis, warts, helomas, hyperkeratosis) and nail reconstruction, as well as the manufacture of silicones using the newest technologies.
Education
Graduated in Chiropody from the Faculty of Medicine and Health Sciences of the University of Barcelona, Andrea Cao is currently pursuing a Master's Degree in the Diagnosis and Treatment of Diabetic Foot at the Autonomous University of Barcelona.
She also has professional training in Health Documentation and Oral Hygiene. To this date, she has developed her working skills in hospitals as a documentalist and in private dental clinics, both as a hygienist and as a dental assistant.
Discover the reviews on this podiatrist and leave yours.
Schedule an appointment with Andrea Cao